It's another groundbreaking first for Ford and a leap into the future for the Mustang brand. The all-new 2021 Mustang Mach-E all-electric SUV features all the benefits America loves about Mustang - sporty, aggressive styling and exhilarating performance - merged with modern technology and mobility for a new generation of owners. Mustang Mach-E is designed for customers who appreciate performance, featuring nearly instant torque response and 0-60 mph times in the mid 5-second range for AWD models. Mustang Mach-E also achieves a new EV experience with true SUV spaciousness, first-for-Ford technologies and exclusive Drive Experiences. Mustang Mach-E is a new idea for a new decade, promising zero vehicle emissions mixed with the Mustang creed - make it fast, fun and a symbol of freedom.
FEATURES
- 15.5" center-stack touchscreen
- E-Latch with push-button open
- Use your phone as a key
- Mustang Pony projection lamps
- Ford mobile charger (120-volt/240-volt charge cord)
- Primary electric motor (rear)/secondary electric motor (front) on AWD models
- Single-speed automatic transmission
- Three (3) Drive Experience settings and One-Pedal Driving
There's a myth that electric vehicles are built strictly for efficiency but Mustang Mach-E proves that this vehicle is ready to show off its Mustang performance heritage too. The all-new, all-electric 2021 Mustang Mach-E lives up to its class fun-to-drive roots by offering nearly instant torque, plus an all-wheel-drive option with electric motors on both axles.
From next generation SYNC 4 to the 15.5" center-stack touchscreen, the all-electric Mustang Mach-E SUV is a display of modern technology. The 2021 Mustang Mach-E provides over-the-air software updates as a convenience to customers to keep their vehicle systems updated and their experience connected.
Keeping this next-gen EV charged is designed to be easy. All models include a charging cord capable of 120-volt and 240-volt charging - and all Mustang Mach-E models are DC fast charge capable. Owners will have access to the largest public charging network in North America.
"Unique" tends to be an overused term in the auto industry, but in the case of the 2021 Mustang Mach-E, the word applies. The aggressive front fascia and fastback roofline carry echoes of Mustang heritage, but this all-new, all-electric SUV will stand apart with its appearance as well as its speed and utility.
A few features will grab a customer's attention when they see the all-new Mustang Mach-E interior: the 15.5" portrait LCD touchscreen, ActiveX Seating Material, Rotary Gear Shift Dial, and EV-specific Drive Experiences. When customers take the driver's seat, they'll know it's a Mustang interior.
Each Mustang Mach-E vehicle will be equipped with AdvanceTrac electronic stability control combined with electronic traction control. And every Mustang Mach-E will be protected by the Advanced Security Pack.
Check out these images from the debut of the 2021 Ford Mustang Mach-E at the 2020 Chicago Auto Show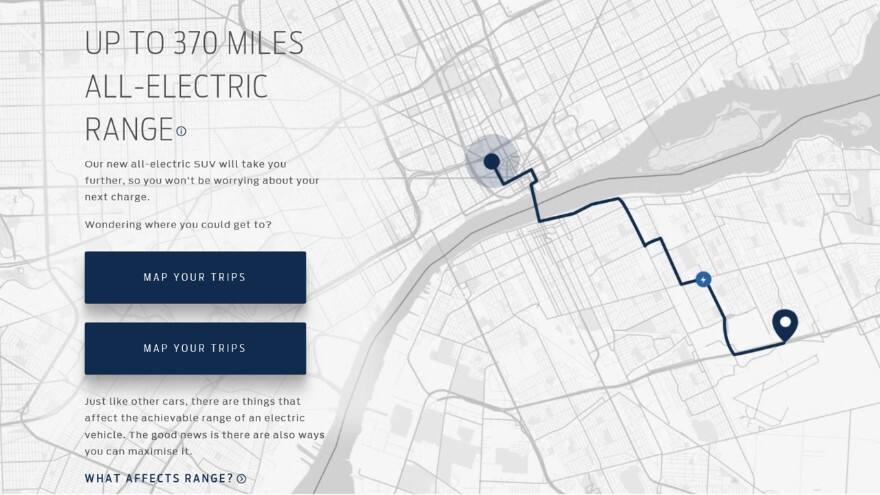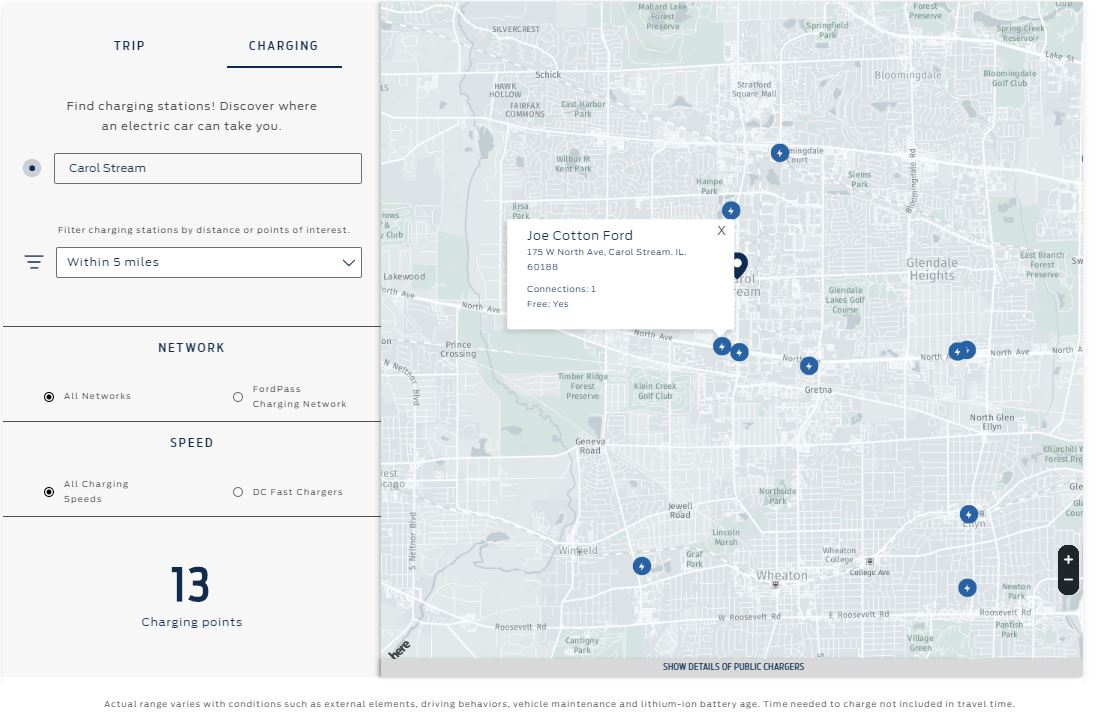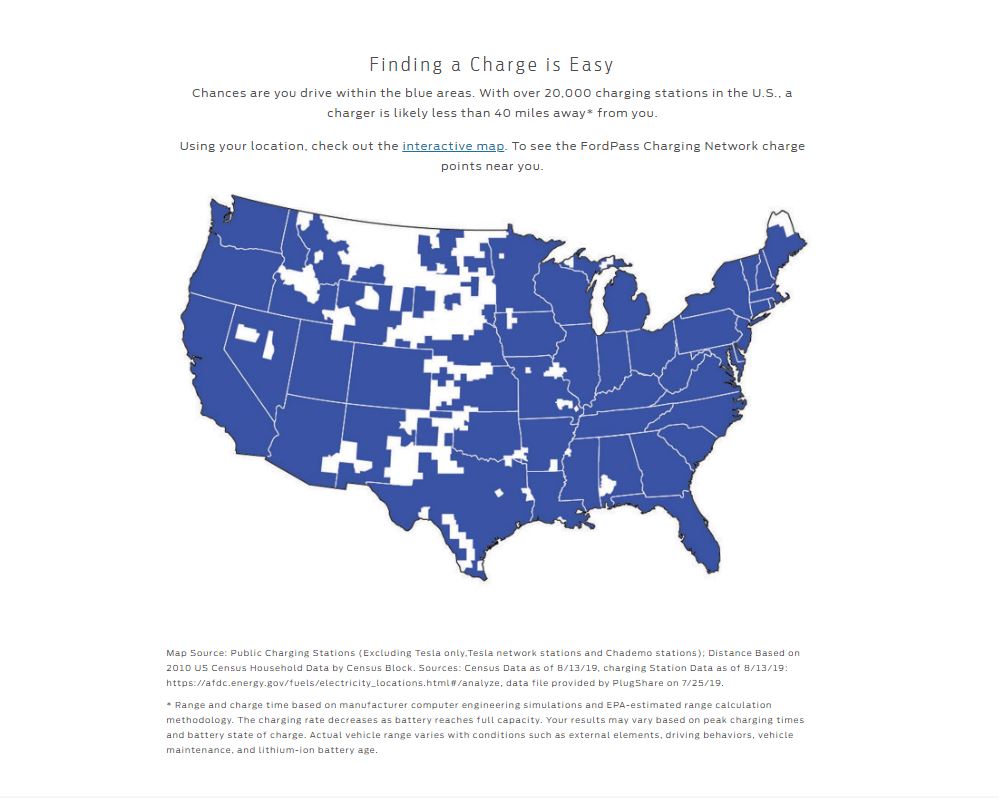 ALL-ELECTRIC F-150
An electric vehicle that's Built Ford Tough? You bet. Watch the prototype tow more than 1 million pounds.
The F-150 prototype is towing far beyond a production truck's capacity in a one-time short event demonstration. Never tow beyond a vehicle's towing capacity. Always consult the owner's Manual.
ELECTRIC VEHICLE VS. THE ELEMENTS
What happens when an all-electric vehicle meets the extreme conditions of a punishing snow and subzero temp (as low as -40F!) test?
Preproduction model shown.
ELECTRIC EXHILARATION
Think battery electric vehicles and speed don't mix? Prepare for a jaw-drop.
Preproduction model shown.
Potentially save time with a full charge overnight! With the 150kW DC Fast Charger, get 47 miles of range within 10 minutes!
80% of electric vehicle charging happens at home. Ford offers multiple home charging solutions to fit your needs– the Ford Mobile Charger comes standard while the Ford Connected Charge Station is an option that fully charges your vehicle overnight.
-Est. 32 miles of range per charging hour, using the optional Ford Connected Charge Station installed in a (240V) outlet
-Est. 22 miles of range per charging hour, using the Ford Mobile Charger in a 240V outlet
-A slow but convenient charge, using the Ford Mobile Charger in a standard (120V) electrical outlet
For the fastest possible charge at home you will want the available Ford Connected Charge Station. This is a great solution for those with longer commutes or who want to enjoy connected features. The Ford Connected Charge Station can be included with your Ford Credit financing agreement.
To make your experience hassle-free, Ford teamed up with Amazon in the U.S. for all your installation services.
FEDERAL AND STATE INCENTIVES

$7500 Potential Government Incentive. YOU MAY QUALIFY FOR FEDERAL INCOME TAX CREDITS AS MUCH AS $7,500. Depending on where you live, and your personal tax situation, you may qualify for Federal, state and city tax incentives for driving an all-electric vehicle.

SCHEDULED MAINTENANCE – ESTIMATED 38% LOWER COSTS VS. COMPARABLE VEHICLES. Electric vehicles have fewer moving parts, which could potentially lower scheduled maintenance costs.

OTHER AVAILABLE UTILITY SAVINGS AND INCENTIVES. You could be eligible for additional savings. Make sure to take advantage of all of them—local utility companies may offer additional rebates or lower charging rates for electric vehicle owners. Check with your local utility provider for complete details.

Mach-E Photo Gallery
Click HERE to see our 2021 Ford Mustang Mach-E Photo Gallery.
Testimonials
Google - 5 Stars
1-27-2020
DealerRater - 5 Stars
1-25-2020
Facebook - 5 Stars
1-21-2020
Google - 5 Stars
12-7-2019
Dealer Rater - 5 Stars
12-3-2019
Google - 5 Stars
12-1-2019
Dealer Rater - 5 Stars
11-26-2019
Google - 5 Stars
11-26-2019
Dealer Rater - 5 Stars
11-22-2019
Facebook - 5 Stars
11-19-2019
Google - 5 Stars
11-15-2019
Facebook - 5 Stars
11-14-2019
Google - 5 Stars
11-6-2019
Dealer Rater - 5 Stars
10-22-2019
CarGurus - 5 Stars
10-19-2019
Cars.com - 5 Stars
10-14-2019
Dealer Rater - 5 Stars
10-10-2019
Read More