Customer Appreciation Event 2019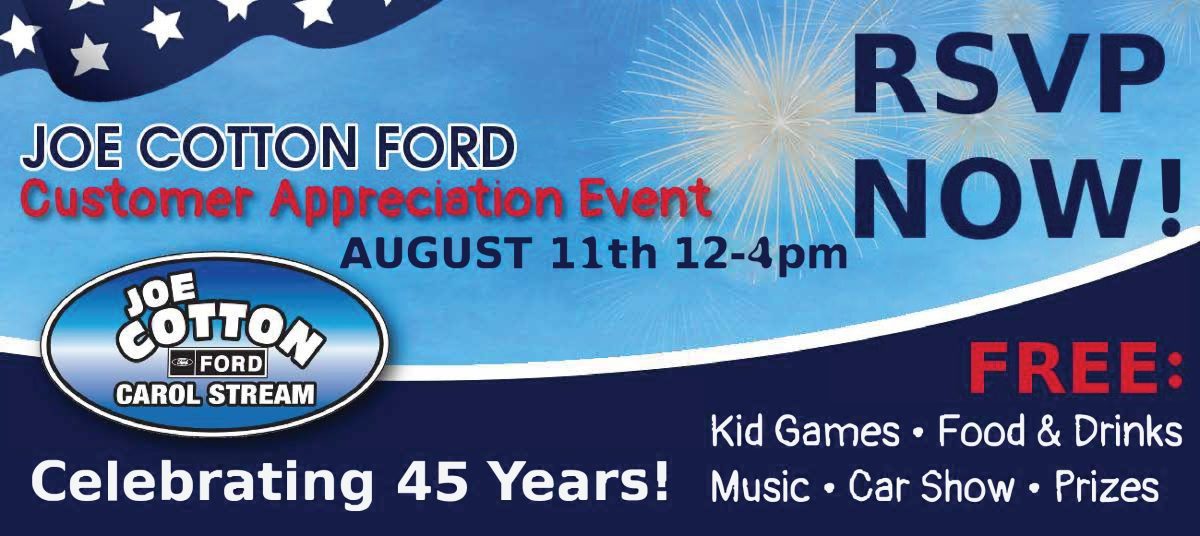 The Joe Cotton Ford Family would like to thank you for 45 wonderful years in this community with our
Customer Appreciation Event.
We would like to invite you and your family for an afternoon of games, food, music and fun.
Please RSVP (below) by August 4th, so we can reserve enough BBQ & Hotdogs for everyone.
(When you check-in please pickup your food tickets)
If you are interested in being in our car show, please add your vehicle information in the comment sections below.
Food
Steamboat BBQ
Hotdogs
BBQ Fixin's
Cotton Candy/Popcorn
Cupcakes by Sarah Sweet Tooth
Games
Blowup Obstacle Course
Joe Cotton Ford Football Toss
Mini-Race Track
Bags
Customer Appreciation Event | Car Show
Sign Up Now
If you have want to sign up for the car show please add the vehicle you will be bring with you in the comment section.
All car show vehicles need to be parked by 11am, show ends at 4pm.

When we opened our doors in 1974, North Avenue was only 2 lanes
and we were surrounded by farmland.
Things have changed a lot since then, but one thing remains the same,
your satisfaction is our top priority.
And you have our family's word on it!
Testimonials
Dealer Rater - 5 Stars
11-26-2019
Google - 5 Stars
11-26-2019
Dealer Rater - 5 Stars
11-22-2019
Facebook - 5 Stars
11-19-2019
Google - 5 Stars
11-15-2019
Facebook - 5 Stars
11-14-2019
Google - 5 Stars
11-6-2019
Dealer Rater - 5 Stars
10-22-2019
CarGurus - 5 Stars
10-19-2019
Cars.com - 5 Stars
10-14-2019
Dealer Rater - 5 Stars
10-10-2019
Google - 5 Stars
10-4-2019
Google - 5 Stars
10-2-2019
Google - 5 Stars
9-27-2019
Dealer Rater - 4.8 Stars
9-24-2019
Google - 5 stars
9-23-2019
Dealer Rater - 5 Stars
9-5-2019
Read More